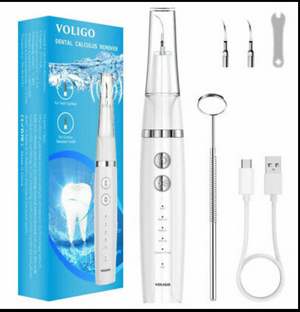 Self care calculus remover
Sale price Price $50.00 Regular price $75.00 Unit price / per
Chargeable Dental Calculus Remover

Can We Brush Our Dental Calculus Away?
Your dentist will tell you that calculus is made of hardened plaque and the cause of nearly all gum diseases. A toothbrush is designed to clean only visible teeth surfaces but not dental calculus. Almost everyone has dental calculus. Scraping is the most effective way to solve it.

Why Do You Need a Dental Calculus Remover?
1. Up to 12,000 vibrations per minute for an outstanding teeth cleaning effect
2. Effectively remove dental plaque/calculus/tartar/tobacco stains/coffee stains, etc
3. Keep oral cavity healthy and bring fresh breath everyday
4. Made of medical alloy steel and food-grade silicone for safe use
5. Less money and time expenses by comparing with teeth washing in dental clinics
6. IPX6 waterproof makes rinse convenient

How to Use?
1. Press the Power Button to turn on the device. Choose suitable gear by pressing Up and Down buttons.
2. Looking in a mirror, apply the metal head to the treating part. Slightly press to remove any dental plaque or tartar.
3. The device pauses 1 sec every 30 sec and shuts down automatically after 3 minutes. Gargle with water and clean the device. Repeat previous steps according to your need.

Notes:
1. The device is used to clean teeth, which cannot replace medical instruments to treat or restore teeth. 
2. Slight gum bleeding when using the device is a normal phenomenon.
3. Please keep out of reach of children.