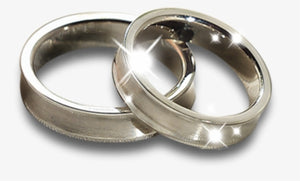 Wedding/ Couple Whitening
Sale price Price $500.00 Regular price Unit price / per
For all couples getting married. This service is recommended six months prior to whitening.
Packages include: Pre treatment session 20 minute (desensitizing gel), 2x 45 minute assisted whitening each (done at same time), Take home Whitening Pen (for post care /touch up).
Are you considering teeth whitening to help reinvigorate a smile tainted by discoloration? Professional, in-office teeth whitening is the most popular cosmetic dental procedure in the world today. Unlike home-use systems that incorporate low-dose bleaching agents, in-office whitening takes place under carefully monitored conditions which allow for the safe, controlled, pain-free use of a relatively high concentration of bleaching gel – yielding results that are visible immediately.
When it comes to tooth-whitening, you've got two options: in-office-based teeth bleaching, or at-home care. Both tooth-whitening options use peroxide-based bleaching agents. At-home systems contain from 3% to 20% peroxide (carbamide or hydrogen peroxides). In-office systems contain from 15% to 43% peroxide.
Advantages
Produces fastest results.
This is the safest form of bleaching.
Gum and tooth sensitivity (formerly drawbacks to in-office bleaching) are more controllable today due to thicker peroxide gels (that don't soak into the teeth as much as previous gels) and the use of desensitizers such as potassium nitrate and fluoride.