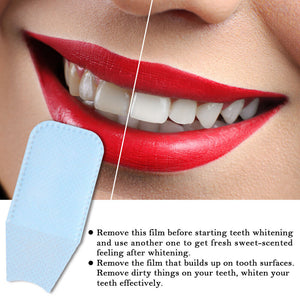 Disposable Teeth Wipes
Sale price Price $25.00 Regular price Unit price / per
Teeth wipes are a simple, disposable tool used to remove debris from teeth and the gum line.
Also known as finger toothbrush or brush ups, each wipe is individually packaged in tear-away sealed foil packet. 
Easy to slip on most finger sizes, the tooth wipe has a blue side and a white textured side. The white textured side increases efficiency in removing surface debris and has an inner moisture barrier to keep your finger dry.
The fresh, minty flavor leaves breath refreshed in a pinch. With packaging about the size of a standard business card, you can easily take these disposable tooth wipes on the go, while traveling and in your makeup kit.