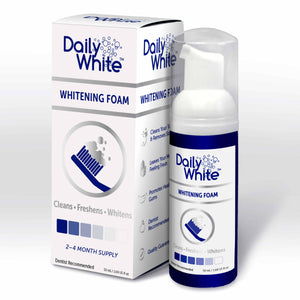 Whitening Foam
Sale price Price $25.00 Regular price Unit price / per
Features:
Cleans Teeth and Removes Stains
Leaves Mouth Feeling Fresh
Promotes Healthy Gums
Clinically Proven
Guaranteed Results
2–4 Month Supply
Dentist Recommended
Safe for Daily Use
Directions:
Dispense teeth whitening foam onto dry toothbrush and brush teeth for 1–2 minutes.
Expectorate completely without rinsing.
Do not rinse, eat, or drink for 15 minutes.
For Best Results: Use once in the morning and once at night. Do not use more than two times daily. Results expected in 1–2 weeks. Continue to use 1–2 times daily to maintain results.
Store in a cool, dry place and keep away from sunlight.
ACTIVE INGREDIENT: SODIUM FLUORIDE 0.15%
OTHER INGREDIENTS: AQUA, PROPYLENE GLYCOL, GLYCERIN, HYDROGEN PEROXIDE, SODIUM LAURYL SULFATE, ALCOHOL, POLOXAMER 407, SODIUM CITRATE, FLAVOR, SODIUM SACCHARIN, MENTHOL, SUCRALOSE, SODIUM FLUORIDE, POLOXAMER 188, SODIUM BENZOATE, POLYSORBATE 20, CAFFEINE, DISODIUM EDTA